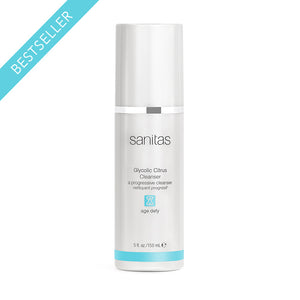 A resurfacing cleanser that removes impurities and exfoliates spent skin cells to encourage skin renewal. An active formulation of glycolic acid and hyaluronic acid helps reduce the appearance of fine lines, wrinkles and age spots while boosting moisture retention. Skin appears smoother, softer and more radiant.
Glycolic Citrus Cleanser
Glycolic acid
a natural exfoliator that brightens, stimulates skin renewal and counteracts intrinsic and extrinsic aging factors
Botanical hydration complex
an optimized lipid blend that fortifies the skin barrier to maintain skin hydration
Sodium PCA
a natural component of skin that helps bolster moisture retention, protect the acid mantle and prevent the visible signs of aging like age spots and wrinkles
DIRECTIONS
One to two pumps is sufficient for most cleansing needs. May be used up to three times per week. If excess dryness or irritation occurs, use glycolic acid product less frequently or discontinue use.