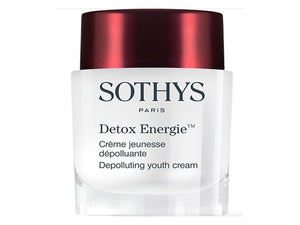 Encourages cell renewal with glycolic acid
Detoxifies skin
Antioxidants protect against environmental damage
Sothys Detox Energie™ Depolluting Youth Cream offers protection and rejuvenation for skin.
Pollution damages the skin's microbiome, weakening the protective barrier. This cream counteracts that damage with ingredients to both detoxify and protect. That way, skin is able to better retain its youthful appearance. Additionally, the detox cream enhances radiance by renewing it with glycolic acid.
Key Features:
Peptides detoxify the skin
Elderberry extract provides antioxidant protection
Glycolic acid renews and enhances skin radiance
Detoxify and renew your skin with Sothys Detox Energie™ Depolluting Youth Cream
Directions
Apply to the face and neck.