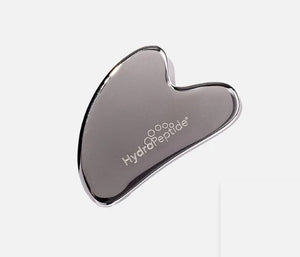 HydroPeptide's stainless steel Gua Sha facial tool deeply massages the skin to decrease fine lines and wrinkles, promote lymphatic drainage, and sculpt the face.
Smooths and lifts by stimulating lymphatic flow and reducing inflammation.
The Gua Sha technique uses upward and outward strokes and light scraping of a stone against the skin to help with lymphatic drainage, promote blood circulation, relieve muscle tension, and improve the look of fine lines and wrinkles on the face.
RESULTS
+Decreased bloating and puffiness
+Sculpted facial features
+Softening of fine lines and wrinkles