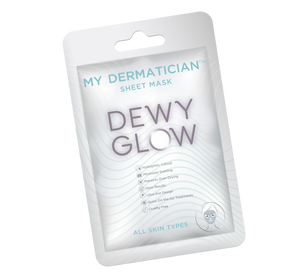 • Immersed in a nutrition-packed solution Dewy Glow allows you to tighten those tough jowls.
• Proven deep hydration by generating a moisture reservoir that lasts for 72 hours.
• Sheet mask help create a long-lasting skin barrier of protection
• Provides visibly smoother skin Dewy Glow Mask generates a moisture reservoir and protects the skin from dehydration.
DIRECTIONS
1. Cleanse the face.
2. Open the sachet and take out the mask.  Adjust mask to adhere entirely over the face positioning openings for eyes and mouth. Stretch to attach to ears.
3. Lift up chin layer and attach to ears.
4. Press the mask lightly with both hands until it adheres completely.     Remove mask after 10 ~ 15 minutes and gently massage the remaining       essence into the skin.